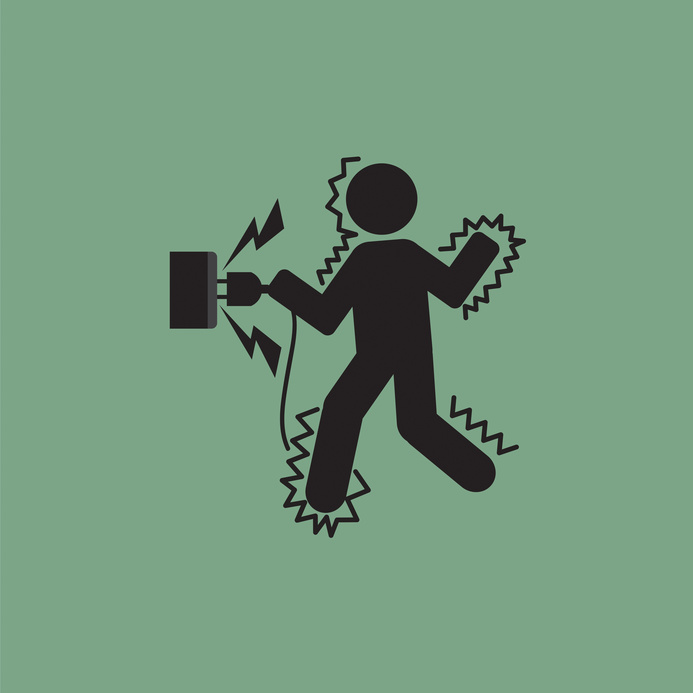 Your neighbour's boy electrocuted himself.
Again!
This is true for almost every household. Electrical appliances + children = accidents, and there is only so much we can do about it.
Or is it?
Well, you will have to agree that children by nature are curious and some are very curious and that is exactly what gets these little creatures into trouble. It is very much impossible for us as parents to be careful at all times. There are instances when we avert our eyes for just one second, ONE SECOND and the next second is filled with wailing and crying noises and all sorts of hell breaking lose right in front of our eyes.
What Is The Reason?
Electricity Mishaps
Which, my friend, have grown very common in modern households these days as almost everything we own is now connected to the power lines and the internet and in many cases to one another. Yes, thanks to the internet of things (IOT) we are advancing with moving times but like I said, children are children and they will be for at least a few more years. As parents it becomes your responsibility to handle them with care in case any electricity mishap happens. While everyone would tell you how to calm them down after they got the shock of their life, literally, only a few would know how to prevent these incidents from happening in the first place.
Understanding the Psyche of Your Child
Remember, your children love to explore their house and surroundings and these activities can often land them in danger especially if your electrical appliances are turned on or are unattended even for a moment.
Given that electricity appears to almost all kids as a fascinating thing and we often even make use of those switches and push buttons in an effort to wow our kids to surprise them in order to calm them down or to stop them from crying. This is very much intriguing for young children and thus it requires for you as parents to be extra diligent and ensure that they remain safe all around the house. It is obvious that they can't be educated about the dangers of electricity but what we can do is prevent them from playing around with it as it can be fatal in many cases.
Implications of Electric Mishaps
Your electronic gadgets store valuable information as well and in many cases, the entire security of the house can be at risk if the child unintentionally hampers with the switches or wire system. This could put everyone at risk which is completely unacceptable. Therefore it is not only important to keep kids away from electrical appliances and gadgets for their own safety but for that of the whole family as well.
Some basic tips that could help you make your home or office safer and more secure for your kids so that can loiter about as they please without putting themselves at risk and risking others' safety as well:
1. Purchase Toys Carefully
The biggest and the most clearly present danger to your kids are high tech toys you choose for them. Whatever happened to the old school soft toys made up of cotton and wool? There are many toys and robots and gimmicky playing parts and blocks that can pose not just a choking hazard but also electricity shocks in many cases. It is very important for you to be attentive and as a parent do not forget to inspect such toys for small, removable and wired parts and accessories that may easily open up or become lose or break off. There are batteries in those toys that can cause your kids harm if left unattended or without adult supervision.
2. Say No To Button Batteries
Although these are real life savers when it comes to bringing your grandmother's vintage watch back to life, they may pose an unexpected threat to your little ones. Your children are, like I said, very curious and thus this calls for you being extremely aware of what all they are touching and carrying. Button batteries are really small and their shiny surfaces attract kids a lot and this is the reason why they end up swallowing them often. According to a study in the US, every year close to 3,000 children are admitted in ER after having swallowed these coin-size lithium batteries. These can be found in many devices like remote controls of your TVs or stereo systems, musical greeting cards, battery powered dolls and watches and again some of their miniature toys as well.
3. Power Strip Covers
Surge protectors or power strips are very much suitable for modern homes of today where there are so many appliances to be connected to power points at the same time. These not only protect power surges and fluctuations but also make for a unified and all in one power cut apparatus that can be turned off when not in need. It is convenient and easy to use. What makes it a problem is your child's curiosity. Yes, children are fond of pulling the plug, quite literally that is and so if you are using one or more power strips in your home or office, it is always wise to add a cover to them. Similarly there are several products that let you cover wall mounted plugs and sockets that can be very helpful in protecting your children from electric shocks. Now your children won't be able to turn off your computer or your TV while you are completing your last minute deadline or watching your favourite TV show.
4. Storing Electrical Appliances Appropriately
This is a total no brainer because we often leave or store our appliances out in the open. They are either on the kitchen counter or on the dining table or in the middle of the eye level shelf, and close to the sink which by the way is the most unsafe place to put your appliances ever. Make it a point never to leave electric appliances such as your curling irons or hairdryers or coffee makers or toasters in an open space where your kids can easily stumble upon them. Make sure to unplug them after use and put them back in their closets or cabinets or wherever they are away from the reach of your kids.
5. Remember To Secure Your Extension Leads
Are there wires everywhere in your home? Your answer is a hesitant but a sure YES. This should not be happening especially when we are aiming for a better and safer environment for your children. You need to ensure that your kids do not tip over those long and unruly extension cords and wires that are spread across the floor. Even if you argue that they are turned off every time your kids are out in the living room or in the study, this is not going to ensure that they are not tampered with. Remember how they are curious about every little thing? That's right, any extension leads or power boards that you have at your place should be placed behind the furniture or under the mats or taped down along the margin of the wall if necessary.
6. No Broken Points
There is simply no room for any broken or malfunctioning power points in your home. You might say that these points don't work but on the contrary they work in an almost perfect way to put your kids at harm. There must be some broken points on your walls that have either a broken or imbalanced switch or a back plate that gets stuck or pushes out the plug on its own due to increased tension or a lose socket which may cause sparking. It is time to mend those points and/or get them replaced completely in case the damage is irreparable.
7. Say No To All Faulty Appliances
Likewise there is no place for broken or outdated electrical appliances in your home as well. All your electronics should have if not 5 star power saving and safety rating then at least 4. Do not under any circumstances allow your children near any faulty electrical appliances if you haven't had the time to get them repaired or replaced. Numerous cases of child electrocution are reported every year and a significant portion of those accidents are due to malfunctioning devices and electronics.
8. Water And Electricity – The Perfect Mix For A Disaster
This is very basic and you would agree when I ask you to keep water away from all your electric appliances. Always make sure that while and after your children have showered or bathed there are absolutely no electrical appliances near them. Also, ensure that children are dried up thoroughly after showering before they head toward their favourite gadget or gaming console. Keep all liquids away from them including all bottles, cups and water jugs and anything that might contain any fluids.
9. Play Hard
Visit the local park with your family, leaving behind those plugs, gadgets and wires at home. Get out and have fun with the people that actually matter the most to you. This is probably the best way to keep your kids away from electric shocks and addictive habits of the modern and tech crazy world. Take your kids to the nearest garden or plan for a picnic at the city zoo. This way you can get to spend some quality time with your kids and family and also prevent many mishaps from happening. A day away from the modern complexities of the wired world would also make you realise the little things that make life worth living.
KiasuPlumber is a one-stop-shop for electrical services in Singapore for over 2 decades. Should you require an experienced electrical contractor, don't hesitate to check with our operator for more information on our electrical services.