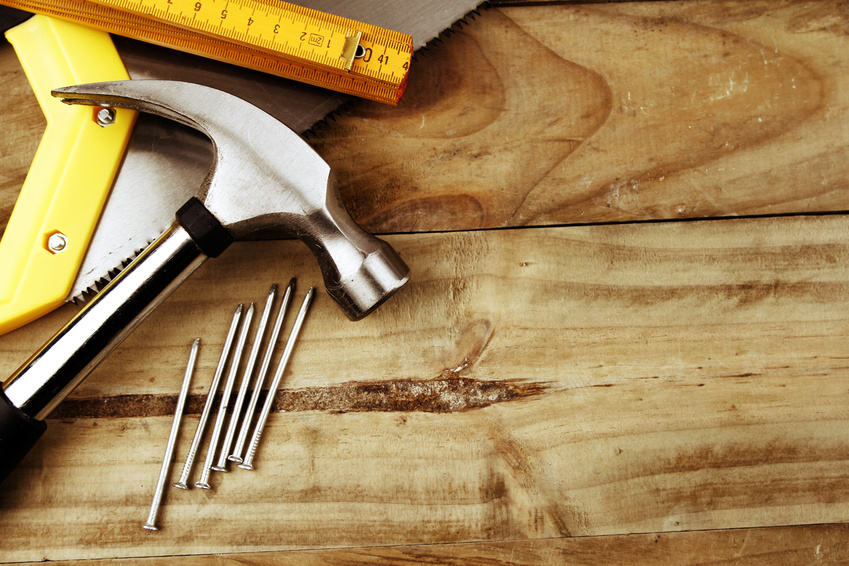 As far as home repair is concerned, the decision of doing it yourself or hiring a pro often depends upon the most essential element – A right toolkit with all the basic tools. A homeowner's toolkit often lacks one or too essential tools. Sometimes, some tools don't function properly because they're not used too frequently.
You should always have these tools fully functional in your DIY toolkit:
1. A Hammer:
There's no guessing, is there? A hammer is needed for pounding and pulling nails. But you don't necessarily know what features they have. Here are some noteworthy features/benefits:
Smooth hammer head to minimize nail slippage and surface damage
A vibration-dampening grip to minimize arm fatigue
A straight/rip claw that comes in handy in demolition projects.
2. A Combination Wrench Set:
Fixing your bed? You'll probably need a combination wrench set to fix those nuts tightly. Besides, wrench set is a go-to tool for assembling large objects – such as furniture and plumbing fixtures. So, always have 2-3 adjustable wrenches of different sizes in your toolkit.
3. Screwdriver Set:
You're going to need at least 4 different sizes of flatheads and Phillips screwdrivers, so that you can fix screws on almost every object of your home. There are advanced tool kits with detachable heads, but they might need a professional hand.
4. Utility Knife:
Utility knife must be there to cut wires, cardboard boxes, plaster and other surfaces. They're far better than scissors in terms of precision and efficiency.

5. Safety Glasses:
You need to protect your eyes, especially while working in dusty and dirty places. You need to protect your eyes while drilling and pinning nails in the wall, and safety glasses offer that protection.
6. Level:
You need a level to see whether the surface is flat or it needs to be flattened. You can buy a 9" Torpedo level that takes care of tight spaces. You can use it to level shelves, furniture or check whether the picture was hung properly.
7. Plier Set:
A complete DIY plier set includes the following:
Groove-joint pliers; for small plumbing and fixing tasks,
Needle-nose pliers; to work with wires, and
Locking pliers; that can grip most surfaces from different angles.
8. Tape Measure:
Another essential yet overlooked tool, tape measure should always be there in your toolkit. It is the fundamental tool when you need to change furniture placement, buy new furniture or add a single furniture item in your room. Besides, it's useful when you're replacing or repairing something.

9. A Cordless Drill:
Not only limited to drills, cordless tools in general are easier to use because of the following reasons:
You don't have to worry about wires
You can move easily and maneuver the tool at will.
Cordless drills come in different sizes and weights. And they have different power wattage, too. Anyhow, a 14-volt variable speed reversing drill is good enough to take care of the majority of DIY home projects for example, bathroom hanging bar, TV mounting, etc. Make sure its bit set features wood, metal and universal bits.
10. Toolbox:

There is no better place to safely place your tools than a tool box. You can easily overlook it, because, "It's just a tool box, anyway" but without it, even the best tools can get damaged or disappeared. Professional handyman services recommend that:
The tool box should be spacious enough to accommodate tools of all sizes, especially medium sized tools.
If the tool box has removable tray or caddies, you can place more tools without causing damage to smaller ones.
For handyman job that you require to complete quickly, KiasuPlumber, it's a one-stop-shop for all kinds of handyman services in Singapore. Don't hesitate to check with our operator for more information on our services.