Generally, each of us adults has that time of our lives when we wanted to be a great chef. Either we want to cook professionally or only for our family. Remember that first time you mastered one dish and got exactly the taste you wanted? That feeling was so victorious that you want to cook more and you think you can conquer the world!
Whether you'd like to pursue that dream or not, today, we're going to teach you some tips on remodeling your kitchen this 2018. We're going to focus on painting ideas that you can apply in order to give your kitchen a more inspiring look. It may help if you know the different paint types that can be applied on your wall.
We hope that after applying your chosen paint style or color, you'll even be more enticed to cook and experiment, or maybe create your own signature dish the moment you step inside your kitchen.
Let's begin!
Plain White
Let's start with the basic and the simple. Let's talk about how this simple wall color translates to a radiant kitchen. There are at least seven interior designers, including Emily Henderson and Katie Hodges, who confessed about their love for white color in home interiors. Some of their reasons include the clean, crisp, and cool ambiance this color of purity brings to a home.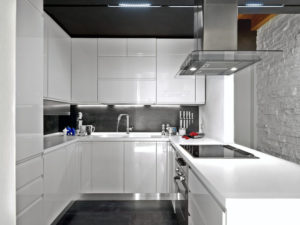 Photo from Interior Charm
If you have the same sentiments about color white and you want a fresh, clean, bright, and illuminated look for the place where you want to fulfil your cooking dreams, then pick the tone of white that you'd love best. Surely, your utensils, kitchenware, and kitchen decorations will look great against a light and bright white wall.
Fat Chef Mural Painting
We've all seen the magic and fun atmosphere that the fat chef brings to a kitchen or a restaurant. In fact, even small cafès and start-up food business love the look of that fat chef with a white hat and a white apron.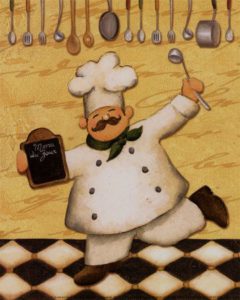 Photo from Pinterest
The chef's wall painting either shows him holding a cooked dish, serving one, or holding his baking supplies. Whatever he does, he always brings a delight to everyone who sees him. Let that chef inspire you to bring out the flavors in your dish and unleash that talented cook in you.
Metallic Silver, Deep Gray, or Bronze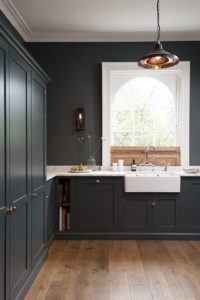 Photo from Pinterest
For a classy kitchen that can withstand the stains and dirt associated with cooking, choose a metallic deep gray, silver, or bronze paint color. Hire reliable and experienced contractors who offer wall painting Singapore services because they know the primer and painting type to use so your wall will be durable. They know everything about making your kitchen walls last for years so please don't DIY this stuff. Don't worry too much about the price for it surely is less than getting your whole home exterior painted.
A Wordy Wall
For most of us, nothing is more inspiring that words of wisdom, quotations, and encouraging statements that we can read on a daily basis. If you're one who spends a lot of time in your kitchen to release your artistic side and you get inspired by encouraging words, then let them be written on your wall.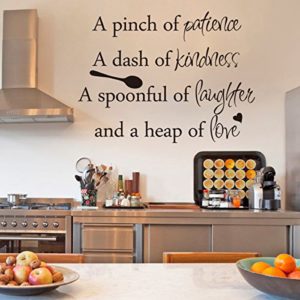 Photo from Pinterest
Fill your wall with quotations that will inspire you while you cook. Those words of wisdom may just be the constant reminder you need to perfect your signature dish.
Whatever our reasons are for cooking, it's a therapy to the soul and a source of happiness for the family. It's also a way to release the artist in you and to simply show your love for those you care about.